Technology Introduction:
Reflective Printed Pattern Fabric for Fashion Clothing is exclusively produced by printed patented coating technology.
▶ Customized reflective patterns
▶ Applicable to various base fabrics
▶ Highly reflective performance
▶ Durable washing performance
Compared with reflective heat transfers:
▪ Much lower production cost
▪ Continuous reflective patterns with fabric width up to 140cm (width of heat transfers restricted by width of transfer film and press machine)
Compared with slik screen printing:

▪ Reflective patterns much brighter(see below photo)
▪ Much higher production efficiency(plate hole of silk screen printing easily get blocked)
▪ Much better washing performance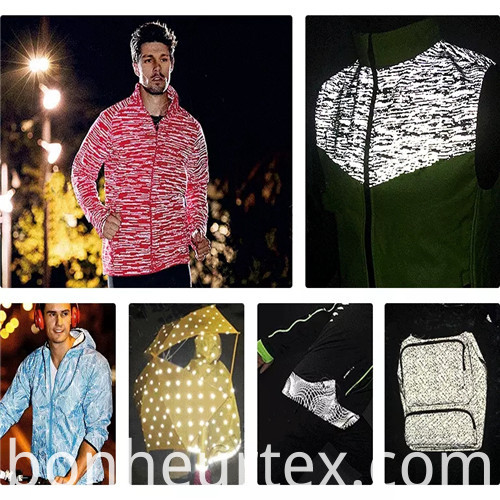 ● Innovation and customized developments are our new priority
● Dedicated to develop new applications featuring in the fashion collections and outdoor sportswear.
● Products has been exported to over 100 countries and regions all over the world.
● Win continuous support of clients, among which are renowned international enterprises like Volvo, SAAB, Michelin, Opel, Toyata, Bosch, BMW, Chevrolet, Renault, Coca Cola, NYPD, Lufthansa, Emirates, Fortis Bank etc.
● Products certified to meet the requirements of international standards: Oeko-Tex 100, EN20471, ANSI107-2010, EN 533, NFPA 701, ASTMF 1506, CAN/CSA-Z96, AS/NZS 1906.4 etc.